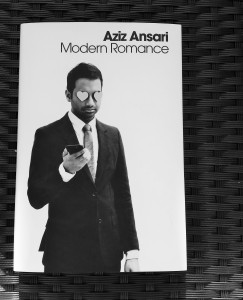 Aziz Ansari presents the reader with a compelling, well-researched, and entertaining read on the landscape of modern romance. I appreciated that within the introduction he had a full-disclosure of the type of research that was conducted and the type of relationship (predominately heterosexual) that would be covered. He realized that not all types of relationships could be achieved within this single book, and because of his own experiences he could not discuss them effectively.
When reading this book and knowing I would write a review, I was unsure just how candid I wanted to be about my own life in relation to the information presented – I mean no one or maybe a select few actually read these reviews. Therefore *dives in:* There were many parts of the book that had me nodding, especially the section regarding messages, just SO accurate. </endspersonalreflection>
I liked the term used within the book "emerging adult" to describe my generation. Instead of following similar paths like our parents (meaning we would begin marrying now) we are instead living in a society where we are working on ourselves before we commit. This means – especially for women – working towards a career, knowing what we want out of life, going on adventures, traveling, etc. I could not possibly see myself marrying this young, 22? Heck no, I don't even own my own car.
Overall, Aziz Ansari finds a great balance between being funny and informative within his book. Additionally, because of the type of language that is used, it makes reading super easy and accessible. ALSO PHOTOS. Lots of photos.