I had the pleasure of being able to attend the Oddball Comedy & Curiosity Festival last night in Toronto. Although tickets were $$, it was nice to spend money on an experience that was thoroughly enjoyable.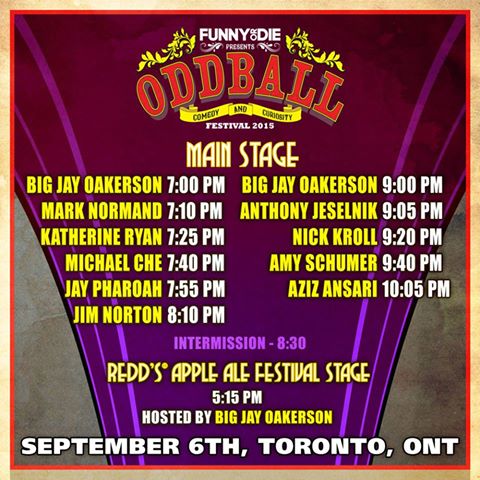 Big Jay Oakerson: Host was a good choice. He was able to ease up the audience, warm everyone up for the comedians, and had great sets for us. He pointed out why certain jokes were okay to laugh at because the chances of them being real were slim. Thought this was a nice touch.
Mark Normand: Was a cutie! His jokes were mostly centered on women and guys, but he delivered the jokes well and were not so bad.
Katherine Ryan: This is when I chose to peace out to the washroom because she was not funny. Jokes felt too forced and were not tasteful. Like wow, you can joke about Bill Cosby? Find some new material. Harsh? Well now, I came here to have a good time and you made me uncomfortable. Least favourite performer of the night to be frank.
Michael Che: I was so looking forward to Michael Che, and he did not disappoint! He's one of the anchors for Weekend Update on SNL. And he was sooo funny! His white girl impression had me in tears, and jokes on gentrification worked for his set.
Jay Pharoah: I was also so excited to see Jay Pharoah because his impressions are so accurate (he needs more air time SNL hint hint nudge nudge).  He impressed Eddie Murphy, Will Smith, and Obama last night — I am so amazed by how he does it.
Jim Norton: Was a hit or miss depending on the joke. Focused on the Kardashians and Caitlyn Jenner for most of the set. Was a "meh" for me.
Anthony Jeselnik: Did not hold back with his set. Nothing was off limits for this guy, and he didn't care. He kind of reminds me of Dane Cook's younger brother.
Nick Kroll: Was a highlight. His "naughty little pun boy" bit was just, omg. He was high energy which was nice to see on stage, and moved around the stage which was also good to see. His voices are amusing too. Also, he was the only one to relate to his environment (Canada) and poke fun at us (Degrassi Joke — being on air for 40yrs, good)
Amy Schumer: Even though I had seen some of the jokes before, she was still great. She can be so down to Earth and real. It was great to see her live, and I enjoyed her set!
Aziz Ansari: Adorable! I was surprised that people started to leave as soon as he got on stage though? Like? Do you know who is about to perform? Main areas of comedy was on relationships and racial issues in America. I love how Ansari delivers jokes, and used the stage.
All in all, I would definitely recommend going to this festival. May go next year if they are back in the area. It was a treat and lightened up my weekend!