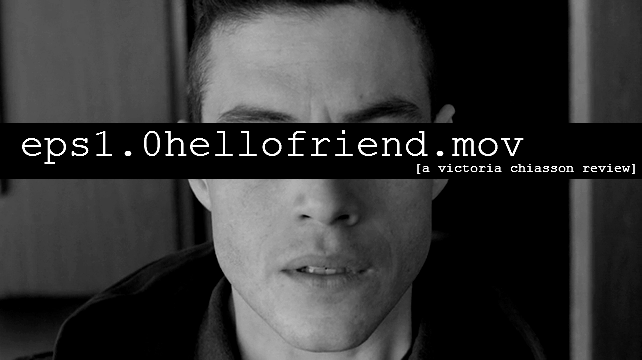 In case you didn't know me, I'm pretty big on television. If you are ever in a conundrum and need a suggestion, hit me up. Oh my love for clever televisions shows is so strong. And what do I discover this summer? Mr. Robot. Now, at the moment I'm currently watching on a weekly basis off of Showcase, but I may being to bingewatch while I can off of AMC because WOW.
Look at the titles for the episodes! Does that not excite you? Or am I the only one loving the formatting. Okay just me.
Rami Malek is about to become a household name. Remember him from Night at the Museum? Or Breaking Dawn? Yep same guy. And now because of this role, everyone is going to want a piece of him.
The shots! Cinematography is everything, and if it's amazing well then, sign me up for watching.
The storyline gets me as I do relate to how Malek's character thinks somewhat. I hate living life feeling outside of the moment. I think way too much and find myself having a difficult time going with it.
Script. Is. Well. Put. Together.
First episode – of course – introduces us to Rami Malek's character "Elliot Alderson," a computer programmer working as a cybersecurity engineer at AllSafe. After a hack on AllSafe's system one night, Elliot is approached by the hacking group fsociety. He's faced with a decision: Does he join their mission in bringing down one of America's biggest conglomerates?