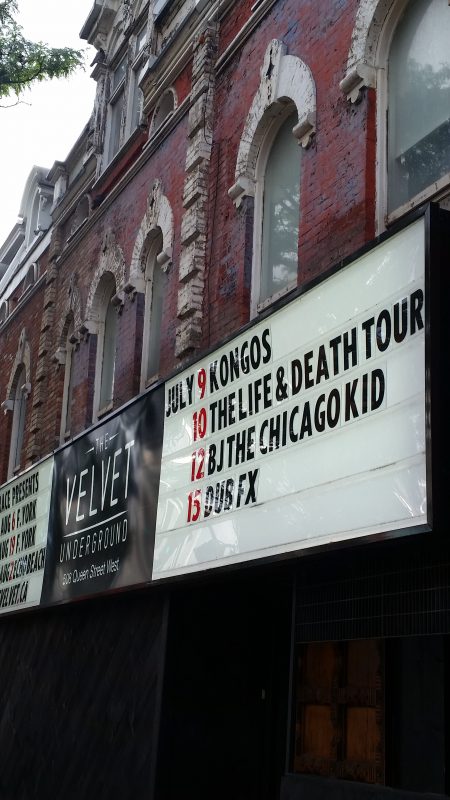 Last night I went to the Velvet Underground to see KONGOS. It was my first time at this venue, and it was a pretty good setup. The only thing needed for the venue considering it holds up to 500, was A/C. The club gets pretty warm, so keep this in mind for dress attire.
Ascot Royals opened for the band, and they had a good set. They were able to get the crowd ready and have a style classified as "dance rock." Their style kind of reminds me of the Boys Like Girls, Jimmy Eat World and Dashboard Confessional genre. Good sounds to dance and be ridiculous to.
KONGOS went on after 10pm. They opened up with "Hey I Don't Know" off of Lunatic which is one of my favourite songs! It was a good start to the show to get everyone headbanging. They continued with a few more tracks off of Lunatic, then started incorporating new music from their newest album Egomaniac.
Egomaniac has allowed the band to explore new sounds, which I'm glad they are doing. There are too many bands that once they have a successful single, they become narrowed in on that sound. It's clear Egomaniac drifts away from "Come With Me Now." The whole album is supposed to be a commentary of their success anyway! The strongest track from Egomaniac is their single "Take It From Me" which reflects on the band making leeway into the music scene, followed by "I Don't Mind."
"Autocorrect" is a social commentary on the future of society, and adds a bit of humour to the world of the digital. Whereas, "Underground" is just a good groove-to song. The album is definitely better live, so I would recommend catching a show with them!
Ending conclusions: I loved the take on "Come Together" with Moezart, he is a super talented rapper. And the encore from KONGOS was great, loved that they played tracks from their father, John Kongos.
Long-live small venues. It gives a more personal and intimate setting where you can actually see the band and feel the vibes! Great night, great music.